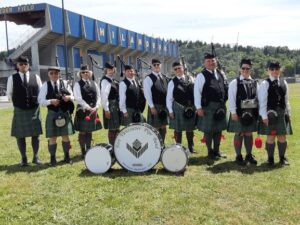 Scottish pipe tunes and more
Only nine notes can be played on the bagpipes. So not every tune that you might like to hear can be played on the bagpipes. There are, however, many well-loved tunes that sound best on the bagpipes, among them Scotland the Brave, Highland Cathedral, and Amazing Grace.
Below are some clips of tunes played at a concert held January 5, 2019. We will try to add in other clips when they become available.
Pipe Major Victoria MacKenzie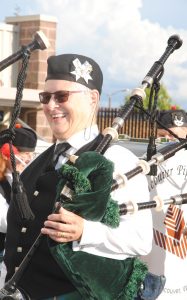 The Fort Vancouver Pipe Band is under the direction of Pipe Major Victoria MacKenzie. The pipe major leads the band at all performances and makes decisions on the musical selections. Use the Contact Us page to make inquiries about the band appearing at your special event. The pipe major can make recommendations on the type of music that the band plays that may be appropriate.
Pipe tunes played by the Fort Vancouver Pipe Band
Under the direction of Pipe Major Victoria MacKenzie, the band plays many traditional and familiar pipe tunes, and those that may not be as familiar, but are sure to get your toes tapping or make your heart skip a beat. The pipe major introduces new selections each year, which the band members learn over time. Most of the time you will hear two or three tunes played together in sequence, which is known as a set. Sets can be changed, with one tune exchanged for another. Competition sets of three tunes are labeled as a medley, or as a march, strathspey, and reel (MSR).
Pipers who play for solo performances can play these or other tunes that they may have learned. Go to the Contact Us page if you need a piper or the band for a special performance.
Scotland the Brave
Amazing Grace
Highland Cathedral
Cock of the North
Fort set: 1976 Police Tattoo, Wha' Saw the 42nd, Wings
Retreat Set: Green Hills of Tyrol (A Scottish Soldier), The Battle is O'er
Set: A Hundred Pipers, Bonnie Dundee
Set: Hot Punch, El Alamein
Set: Battle of the Somme, The Heights of Dargai
Set: The Bells of Dunblane, Bloody Fields of Flanders
Set: Balmoral, Pipe Major J.K. Cairns
Drum Salute: followed by Brown Haired Maiden, The High Road to Gairloch
Set: Terribus, Corriechoillie's Welcome, Jimmy Findlater
Set: Suo Gan, Leaving Liverpool
Set: Lochanside, Loch Maree
Irish tunes: Minstrel Boy, Wearin' O' the Green, Rakes of Mallow, When Irish Eyes are Smiling, The Wild Rover
Patriotic set: America the Beautiful, Grand Old Flag, God Bless America